CollabCAD Models
View CollabCAD models in e-CollabCAD 3D web viewer with innumerable features
CollabCAD Models
View CollabCAD models in e-CollabCAD 3D Web Viewer with innumerable features
e-CollabCAD Viewer
e-CollabCAD Web Viewer is a product for visualization and sharing of 3D design data of CollabCAD and open 3D data file formats (STL, OBJ, PLY, MUZ, JSON). No software or plug-in required, the viewer works directly on a WebGL compliant web browser! Upload, View and Share your 3D models and innovative designs with public or private collaborative partners.
With the help of WebGL based e-CollabCAD 3D viewer, user can visualize in real time the 3D models in their browser. e-CollabCAD viewer works on all browsers that supports WebGL. 3D models are rendered with the help of WebGL and HTML5.
To get started, register for CollabCAD account, upload 3D models and view them online.
Already have an account, login to access your uploaded 3D models.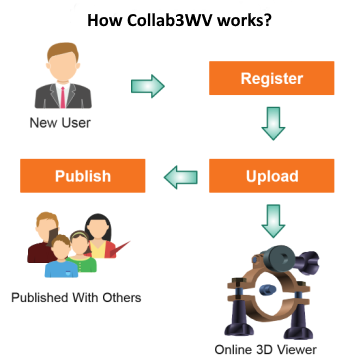 Register for CollabCAD account
Login to CollabCAD account
New to e-CollabCAD Viewer? Please explore
Explore features of e-CollabCAD
Check browser compatibility
Explore shared models and view in 3D Viewer